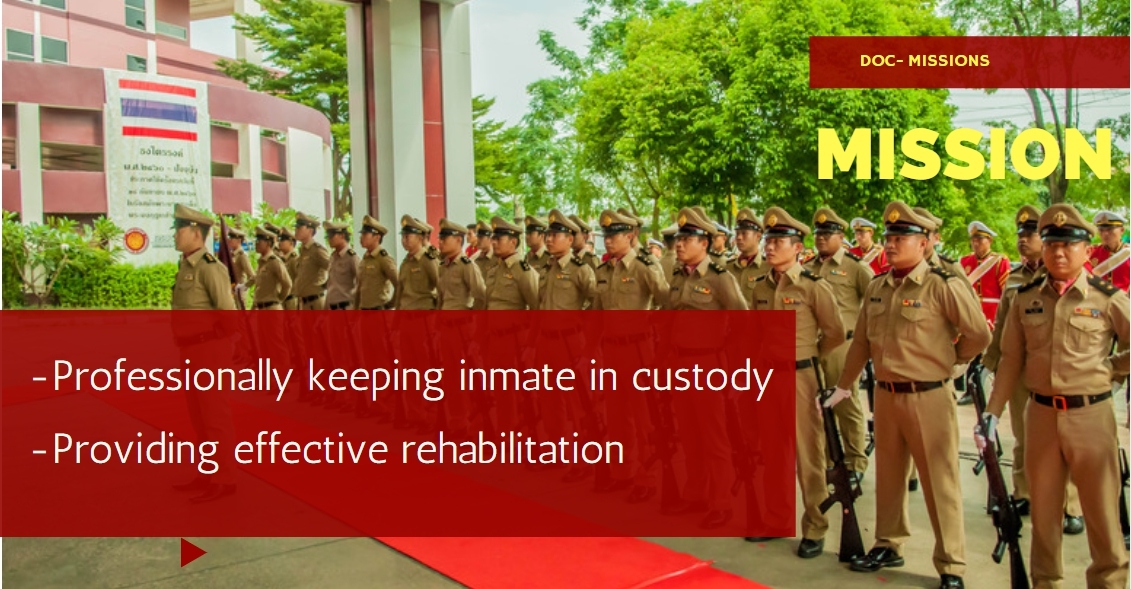 Responsibilities
Providing treatments for offenders according to court rulings by means of Penitentiary Act and relevant laws
Stipulating guidelines of treatment of prisoners under relevant laws and regulations, penological practices, and the United Nations Standards on Treatment of Offenders
Providing social welfares and welfares for prisoners
Performing other duties assigned by the Ministry of Justice and the Cabinet
Special Traits of Correctional Work
24/7 operation

The provision of minimum working hour rate of the Department of Corrections (DOC) is 8 hours per official weekdays. With regard to the other 16 hours left and during the weekends, the DOC officials will be rotated to be on duty. Consequently, the officials of the department and prison service are to perform more hours than regular officials of other agencies, resulting in tiresome, discouragement and inadequacy of time for family.


Subtle, careful, correct and accurate operation. No mistake is allowed.

Warrant obtaining, prisoner receipt – release and body search, release date calculation/reduction of imprisonment term and other affairs such as carrying out a convicted prisoner's death penalty must be accomplished subtly and without mistakes. These tasks require skillful officers with experience in specific area of expertise.

Quick – response operation. Declining and delaying are not allowed.

The first fundamental mission of the Department of Corrections is to keep in custody of the prisoners. The Department of Corrections could not refuse to receive the prisoners regardless of the lack of the staff or the detention space. With regard to the fact that prisoner detention and release must be conducted without delay upon obtaining a prisoner warrant or once an order is legally issued, the prison officers must take an immediate act to finish the assignment regardless of working overtime or confronting inadequate number of staff. This contributes to high amount of work and pressure the current officers have to bear.

Hard to achieve, especially the rehabilitation of prisoners

To rehabilitate prisoners who are habitual offenders is considered an extremely difficult process since most wrongdoers have been developing bad cognitive behavior and mindset for a long time, carrying mental disorder, obstinate and deviant behavior.  As a result, rehabilitation and treatment of prisoners are regarded as arduous tasks to achieve.

Social security and safety affecting

Any omission or mistake caused by the Department such as prison escapes, wrong prisoner release, ineffective prisoner database system, and recidivism causing loss of lives and property may damage justice system, public order and social security.

Laws and regulations involving

The duties and responsibilities of the Department of Corrections are very difficult and complicated to carry out. They also relate to a great number of laws and regulations such as Corrections Act 2017, the Act on Detainee Treatment under Criminal Code B.E. 2510, the Act on Detainee Treatment under Criminal Code B.E. 2506, Criminal Code B.E. 2499 and Criminal Procedure Code B.E. 2478 including abiding by  the UN Standard Minimum Rules for the Treatment of Prisoners and relevant recommendations as deems appropriate and in accordance with the budget provided.

Moreover, the Department of Corrections has to cooperate with international organizations, foreign agencies, embassies and consulates, as well as private and public sectors.